Naha-Te, Shorei-Ryu, and Goju-Ryu
Ryu Ryu Ko and Kanryo Higaonna
It was the Okinawan Kanryo Higaonna (1853-1916) who, through his intensive studies in Fuzhou or Foochow (Fujian, China) between 1867 and 1881, laid the foundation of what later would become known as Goju-Ryu karate-do. Kanryo (known as Machu during boyhood) set sail for Fuzhou in the autumn of 1867, when he was 15 or 16 years of age. Some authors suggest that his departure from Naha (his place of birth) was somewhat later (age 22) in 1874 (McCarthy, 1987). According to historical accounts, Kanpu Tanmei, the manager of Kanryo's boarding house the Uchinayaru, learned about his eagerness to study the Chinese martial arts and introduced him to the Chinese master Ryu Ryu Ko. Here he trained for 15 years with this Shaolin temple fist-method master (Shorinji kempo).

There is still no consensus of opinion about Ryu Ryu Ko's exact identity nor about the exact martial art style that he taught. However it is widely believed that the family of Ryu Ryu Ko had originally been of the aristocratic class, and in those times only the aristocratic classes studied the martial arts. Ryu Ryu Ko studied at the southern Shaolin Temple in the mountains of Fujian Province. Due to the internal strife that threatened the feudal system and therefore the Chinese aristocracy, the family was forced to conceal their status in order to survive. For this reason Ryu Ryu Ko worked as a bricklayer and a builder. In later life he lived by making a variety of everyday goods such as baskets, furniture and other items from cane. This was the profession he was following when Kanryo Higaonna became his pupil. In the area Kanryo Higaonna settled White Crane teachers were living and it is likely that Ryu Ryu Ko was one of them. The White Crane (Bai He) genealogy of Fujian goes back to Fang Jiniang, the daughter of Fang Shiyu, who is said to have learned Monk Fist (Luohan Quan) during his stay in the southern Buddhist Fujian Shaolin Temple on the mountain Julianshan (Nine Lotus) near Fuzhou in the Puliang-district. Fang Jiniang, from Yongchun near Fuzhou, had also studied both the defense- and attack-movements of the White Crane system, becoming one of the first generation of White Crane masters. The second generation Yongchun White Crane Boxing grand master was Zeng Cishu, who was also a Black Tiger Boxing master (de Spa, 1999).

The White Crane tradition during the 17th century in Fujian became strongly influenced by Monk Fist and Tiger Boxing, and these fighting systems probably laid foundation on which Ryu Ryu Ko taught Kanryo Higaonna. The original Ancestral (Zong He Quan) or Trembling (Zhan He Quan) Crane style was later split into five main separate branches known as: Singing Crane, Sleeping Crane (Su He Quan), Flying Crane (Fei He Quan), Eating Crane (Shi He Quan) and Shouting Crane (Ming He Quan).

Over time, Kanryo Higaonna became Ryu Ryu Ko's "uchi-deshi," meaning he was to receive the inner teachings of his master, learning the whole system (to include weaponry and traditional Chinese medicine). It is not clear exactly which year Kanryo Higaonna began teaching the martial arts in Okinawa, but it is known that he did not begin teaching until a few years after his return from China. Kanryo first began teaching martial arts in his home in Nishishin-machi, but later taught also at the Naha Kuritsu Shogyo Koto Gakko (Naha Commercial High School) in September 1905. Kanryo was noted as a strong fighter, although he stood only 5'1" tall. Following a demonstration to Okinawa's king Sho Tei, upon his return from China, he was made the martial arts instructor to the royal family. He had many notable students that included Kenwa Mabuni (Shito-Ryu founder), Juhatsu Kiyoda (Toon-Ryu founder), and eventually his top student, Chojun Miyagi, succeeded him as the head of Naha-Te.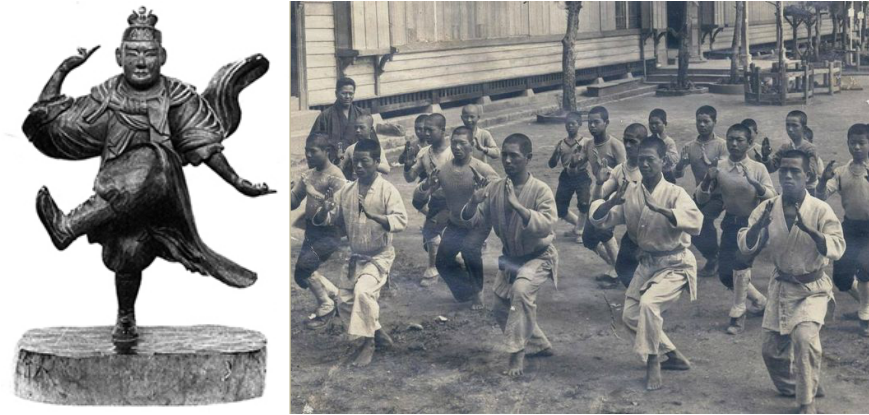 ​Chojun Miyagi (1888-1953) adapted Kanryo Higaonna's Naha-Te and renamed it Goju-Ryu. Although there is some debate within the Goju-Ryu system as to the rightful heir of Miyagi, there is no debate as to the fact that he was Kanryo Higaonna's most talented and chosen pupil. Miyagi came from a wealthy family who imported medicines and other items from China and supplied these to the royal family, the government and businesses. To prepare him for his future task to lead the family, the only eleven years old Chojun was brought to Ryuko Aragaki (1875-1961), who sent him at the age of fourteen to Kanryo Higaonna. Here Chojun Miyagi, together with Juhatsu Kiyoda (1887-1968), was taught for the next 15 years Higaonna's Naha-Te.

After the death of Higaonna in 1916, the well-off Miyagi, who occupied himself full-time with the study of martial arts, planned a trip to Fuzhou, the Mecca of South-Chinese fighting arts (Nan Quan), to visit the birthplace of Kanryo Higaonna's Naha-Te and to pay his respects to Ryu Ryu Ko's grave. For two months Chojun Miyagi together with Aisho Nakamoto (1881-1945) stayed in Fuzhou to train and they also visited the Julianshan Fujian Shaolin Temple.

Upon returning to Okinawa he became friends with two tea-merchants from Fuzhou Wu Xianhui (Japanese: Go Kenki) and Tang Daiji (Japanese: To Daiki), both of whom where famous martial arts teachers. Wu Xianhui (1886-1940) came to Naha in 1912 to teach White Crane boxing befriending Juhatsu Kiyoda, Chojun Miyagi and Kenwa Mabuni (1889-1952).

Together with Wu Xianhui, Chojun Miyagi left to visit Fuzhou again at the end of the 1920's. Except for Wu Xianhui (who emigrated from Fuzhou to Naha in 1912), Miyagi had a good relationship with Tang Daiji (1887-1937), a Tiger Boxing (Hu Quan) master. Introduced by Wu Xianshui, Miyagi met in February 1936 in Shanghai the famous Monk Fist (Luohan Quan) master Miao Xing (1881-1939). Miyagi is said to have trained for some time diligently with Miao Xing and other Chinese masters associated with the Jingwu Athletic Association. He also visited the national martial arts championships.

Miyagi dedicated his whole life to the development of what was called 'toudijutsu' (China hand art) or simply 'Te' on Okinawa. In 1921 crown-prince Hirohito visited Okinawa before travelling to Europe. During his visit both Shuri-Te and Naha-Te (by Chojun Miyagi) were demonstrated.

In 1925 Miyagi demonstrated for prince Chichibu-Nomiya and shortly after, in 1926, he founded the Okinawa Karate Kenkyu-Kai (Okinawa Karate Research Club) together with Chomo Hanashiro (Shuri-Te), Choyu Motobu (Tomari-Te) and Kenwa Mabuni. One year later, Chojun Miyagi demonstrated to Jigoro Kano (Judo founder) the breathing-, grappling-, locking- and throwing-techniques of Naha-Te. At the end of the 1920's and the beginning of the 1930's, Miyagi, together with one of his top students, Jinan Shinzato (1901-1945), gave several seminars and demonstrations at Japanese universities, Budo tournaments, and at the crowning festivities of prince Hirohito.

In 1933 Chojun Miyagi registered 'toudi' officially as Goju-Ryu at the Japanese regulating Budo institution, the prestigious Dai Nippon Butokukai, the All Japan Martial Arts Association. Miyagi changed the name of his Naha-Te to Goju-Ryu, reflecting one of the "Eight Precepts" taught in the Bubishi (Chinese book of martial arts).

Later on, Miyagi was distinguished by the Ministry of Physical Education, receiving the highest honor of the Dai Nippon Butokukai and was appointed representative of the Butokukai department for Okinawa. This made Goju-Ryu the first and eldest karate tradition recognized by the Dai Nippon Butokukai. In May of 1934, Chojun Miyagi traveled on invitation to Hawaii where he taught and gave demonstrations until February of 1935. At the time, his teachings were referred to as kempo karate.

On the 25th of October 1936 the most renowned and respected Okinawan masters (Chomo Hanashiro , Chotoku Kyan, Choki Motobu, Chosin Chibana, Juhatsu Kiyoda and Chojun Miyagi) assembled and changed the name toudijutsu into karate-do.
---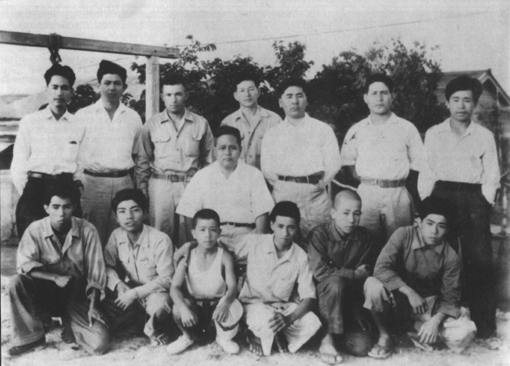 Chojun Miyagi in the center with Eiichi Miyazato left of Miyagi, Meitoku Yagi behind, Seikichi Toguchi positioned to the right, and Eiko Miyazato next to Toguchi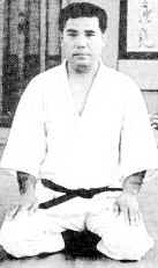 An'ichi Miyagi and Morio Higaonna
Before World War II Chojun Miyagi's top student was Jinan Shinzato. Shinzato was a police-detective by profession. Besides karate he also trained in judo. Shinzato was talented and it was generally known that he was to become Chojun Miyagi's successor. Unfortunately he was killed during World War II. In addition to Shinzato, Chojun Miyagi also lost two daughters and his third son during this war. Of the many excellent students that had trained with Miyagi prior to the war (Seiko Kina, Meitoku Yagi, Kiei Tomoyose, Shunshin Furugen, Eiko Miyazato and Eiichi Miyazato), very few continued to train as they were busy trying to make a living in these hard times.

Therefore in 1948 Chojun Miyagi accepted new students and revised his teaching system, arranging the kata of Goju-Ryu into a set sequence, something that had not existed previously. In February of that year four students came to his dojo, An'ichi Miyagi, Bise Chishin, Gima Seikichi and Tokeshi Kako. After one year of intensive training An'ichi Miyagi was the only one who had remained. Up to 1951 he was Chojun Miyagi's sole student. A close relationship grew between them; Chojun Miyagi treated An'ichi like a son of his own.

Due to that relationship, Chojun Miyagi taught the essence (gokui) of Goju-Ryu to An'ichi Miyagi. From February of 1948 to October of 1953 Chojun Miyagi taught An'ichi everything he knew to preserve this knowledge as a whole for future generations. During 1951 Miyagi began accepted new students again and the first of them was Shuichi Aragaki. These students were taught by An'ichi. In 1952 the number of dojo members gradually began to grow. On the 8th of October 1953 master Chojun Miyagi died suddenly of a heart-attack. Training continued in the garden dojo of Chojun Miyagi's house.

---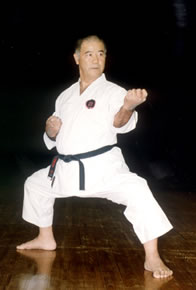 About this time, Morio Higaonna joined the garden-dojo of the late Chojun Miyagi. Before that time Morio Higaonna was trained in Goju-Ryu and Shorin-Ryu with Tsunetaka Shimabukuru, Kenji Kaneshiro and Yoshishige Omine. At the intercession of Tsunetaka Shimabukuru, Morio Higaonna was introduced to the garden dojo in March 1955. At his first visit he met Yasuo Iba, who told the young Morio Higaonna that he should go to An'ichi Miyagi as he was the most skilled practitioner in the dojo. After training, Morio Higaonna would visit with Chojun Miyagi's widow Makato (1887-1966). Sometimes they spoke about Chojun Miyagi and some of his senior students, and of karate. She stressed that he should learn from An'ichi Miyagi, as the latter was most close to her husband and learned Goju-ryu from him.

In August of 1957, Eiichi Miyazato (1921 – present) built a large dojo in the Asato district of Naha, which he named Jundokan ("House for the Following in the Footsteps of the Father"), after the name of Jigoro Kano's first judo-dojo. Miyazato who also after the war was heavily occupied with judo became a judo champion around 1950 or 1951 and even left for Japan in April 1953, to attend the Japan Kodokan seminar. Miyazato became an accomplished judo master and president of the Okinawan Judo Federation. Because of his authority and position as a police-officer, Miyazato became the official head of the dojo with Koshin Iha as his assistant. They rarely taught, however, leaving the daily teaching responsibilities to An'ichi Miyagi. It was An'ichi Miyagi who, for example, taught Iha suparinpei kata. In 1959 An'ichi Miyagi left Okinawa to work on an American-owned oil tanker. At this time work was very difficult to find on Okinawa, and An'ichi still had the responsibility of supporting his family. One year later, Morio Higaonna decided to go to Tokyo, to attend Takushoku University. Attending the university, he would return to Okinawa just twice a year, each winter for about one month and each summer for about two or three months. On these occasions he continued his training and further development with An'ichi Miyagi.

In 1979, with the support of the family of Chojun Miyagi and Ken Miyagi (fourth son of the founder of Goju-Ryu), the International Okinawan Goju-Ryu Karate-Do Federation (IOGKF) was formed. This formation was due to a desire to keep Goju-Ryu's original techniques unchanged and to further its technical development as well as its popularity according to the wish of Chojun Miyagi. An'ichi Miyagi was appointed the honorable chairman; Morio Higaonna was appointed the world chief-instructor. In 1981, Higaonna moved to Okinawa and opened a dojo in Naha (Higaonna dojo) to do more research.

---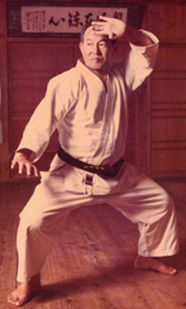 Meitoku Yagi (1912 – 2003) has also been considered the successor of Goju-Ryu under Miyagi. Meitoku Yagi was born March 6, 1912 in Naha, Okinawa. Yagi's lineage can be traved back to the famous Kumemura (36 families from China that immigrated to Okinawa in 1392). Meitoku is the 21st generation of his family lineage from this origin. He began his training in Naha Te (Goju Ryu) under its founder, Miyagi Chujun at the age of 14 (1926). Following the death of his teacher in 1953, Yagi opened his own dojo in Naha and named his school, Goju Ryu Meibukan (the house of the pure minded warrior). Yagi developed a number of unique kata for the Meibukan system. Yagi also established the Okinawa Goju-Kai in 1956 in order to propagate all systems of Goju Ryu.

In 1963, Yagi Meitoku, the most senior student of Miyagi, was chosen by Miyagi's family to receive the Menkyo Kaiden (naming him official successor to the system) along with the master's karate gi and belt. Toward the end of his life, Meitoku Yagi received the 4th Order of Merit by the Emperor Hirohito, giving him the title, "Living National Treasure" (1986). Yagi passed away on February 7, 2003 at the age of 91. Yagi has two sons, Meitatsu and Meitetsu. Currently Yagi Meitatsu is the president of the International Meibukan Goju-ryu Karate Association (IMGKA), and Yagi Meitetsu is the president of the Meibukan hombu dojo. In 1997 Yagi promoted his eldest son, Meitatsu to Hanshi Judan. Before his death, Yagi also promoted Meitetsu to Hanshi Judan in 2001.

---
Goju-Ryu is characterized by emphasizing close-combat fighting. In basic kakie the karate-ka learns the go-aspects such as rooting, absorbing power, using muchimi and ki-expansion. Aspects that are also emphasized in sanchin kata. In fighting-technical respect the karate-ka learns to use pushing- and pulling-techniques in this phase in order to out-balance his opponent (kuzushi waza) to make the fighting distance suitable to himself. Connected to this, different methods to lock arms (or legs) of the opponent and 'opening up' the vital points (energetic) of the body, follow (kyushu-jutsu).

After learning these basics the applications of the kata are integrated in kakie. The fighting techniques trained in kakie, like so many bunkai kumite, are known as 'gyaku-te' and are divided in categories like e.g. kansetsu waza (manipulations of the joints), nage waza (throwing techniques), shime waza (strangulations) and kyusho waza (manipulations of the vital points). The kakie training is integrated in the total curriculum. As soon as a good foundation is laid in terms of basic techniques and -abilities, kakie training shifts to more free exercising-forms ending in jiyu kakie kumite and iri kumi, the free-fight exercise and competition-form of Goju-Ryu. Many techniques trained in kakie and in the bunkai can be traced back to an old Chinese text about fighting arts, the Bubishi.